Have you ever comprehended how convenient it is to catch up with acquaintances at a single click at the comfort of your home or anyplace away from the office? Yes, this is all possible with the assistance of real-time chat platforms! Connecting with businesses and converting them into leads is no great deal today. But definitely with correct marketing tricks and tactics. 
Real-time communication is a medium that allows your business to engage with your visitors live via messaging. Any software that enables live chat is commonly referred to as live chat software or customer messaging software. 
It is software that allows immediate customer support and information. The platform works as an instant messenger where your customers can communicate with you live. A live chat can quickly and conveniently answer customer inquiries that can increase your conversion rates. 
In this article, we will discuss the substantial aspects and characteristics of live chat software to get a better understanding and decide if it would make the right choice for your business and if it matches your business requirements.

LiveChat Overview 
The success of any business is always dependable on quality customer service which is, in turn, fundamental to the long-term success of any business. Customer relation isn't limited to just sales, but they are also one of your best bets in spreading the word about your services or products. Hence, when it comes to your website, providing good support nurtures your relationship with your customers and helps you grow your customer base. One of the challenges customers face in online shopping is being disconnected from a staff who can answer their questions precisely and promptly. Businesses can alleviate this matter by providing a connective experience for customers using LiveChat Software.
LiveChat is used for online chat, multichannel support, lead generation, online surveys, in-app support, net promoter score, and more making it one of the most versatile solutions on the market today. Let's take a brief look at the features, benefits, and striking highlights of LiveChat:
Addition of product cards to live chat conversations

Usage of custom forms and AI chatbots to qualify your leads

Automatic tracking of sales and KPIs to monitor the effectiveness

Auto agent routing

Auto ticket creation

Segmentation of visitors based on their behavior on your site

170+ tool integrations (Dropbox, BigCommerce, MailChimp, Shopify, Salesforce, etc.)
LiveChat is simple to use and set up as well. Its plans start at $16 per agent per month, and you can take a free trial for 14 days without a credit card required. 
LiveChat Features
Active Chat – This is the basic feature where your operators initiate the chat and reach out to your website visitors by offering instant help. This experience is crucial for customer satisfaction and engagement. The ping can be in the form of an image or a small chat window. 
Monitoring Visitors– This provides a comprehensive tracking facility that gives you a deeper insight into the behavior of your website's visitors. The tracking information includes the amount of time spent by a visitor in the chat, your executives' overall activity, conversion tracking, and record of transcript reports, etc.
Rating a Chat– Customers can take some time out and rate their chat conversation with your agents. Receiving feedback from your customers provides vital information on the quality of your support and areas of improvement for customer satisfaction.
Chat Routing– Customer Support agents can transfer chats to any available operators or automatically route the customer to the right executive. This is helpful for your agents so they won't be overloaded when the chat volume increases and your customers can get appropriate and prompt responses.
Operator Monitoring– Analyze your operators using relevant insights regarding their performance. This allows you to see who all are doing well and who are under performing, train them, and improve the quality of your chat support.
Chat Monitoring– This lets you track detailed chat conversations in real-time and see who among your agents are currently chatting. The analysis also increases your agents' efficiency and productivity.
Canned Response– Agents can speed up their responses using the canned responses. These are the snippets of text that can be saved and used frequently in chats. Saving and reusing them saves your agents; time and it can be used with few keystrokes in subsequent chat sessions.
Mobile Optimization– A huge number of people use their phones as well as systems when browsing the internet, hence, this feature lets your website assist with various types of your website visitors irrespective of what device they are using.
Offline Forms– This feature enables your customers to reach you even if your chat agents aren't online 24/7. Message routing auto-creates tickets for offline messages. It can be in the form of a contact form which will be emailed to an agent when a visitor fills it.
Smart Triggers– This places a custom trigger for specific conditions using a smart chat system. For example, agents will be notified about a recurring website visitor so that they can initiate a proactive chat session.
File Transfer – This has a clear control on compatible file types and sizes that ensures visitors' convenience.
Queue Times– This is an interesting feature that provides your visitors a close approximation of the wait time before starting a live chat conversation with your agents, especially when there's a high volume of chat. Waiting for an indistinct time may lead your visitors to exit the website which can hamper your company's customer satisfaction level. This may also result in a loss of a potential sale.
Reports and Analytics– This is a fundamental feature in which you can monitor important data such as operator activities, chat history, conversion tracking, visitor details, and average time spent on chats. This data is essential for determining effective strategies and areas for improvement.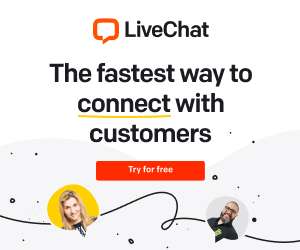 Pricing Plans
LiveChat software offers a free trial period that ranges from 14 to 30 days to let you get the hang of the software and see if it matches your needs. Below is the sample pricing plans of LiveChat, 
Merits
Simple and intuitive to use

Efficient as it provides real-time data

Provides canned responses to ease extended typing

Provides quick access to respond to queries and complaints

Convenient to use for all age groups

Any, small or big enterprises use this product to cater to client needs

Integrates well with social media pages
Demerits
Sometimes chats fizzle out and your chat will be automatically transferred to another representative

Not much scope for customization  

Tool often freezes

Slightly expensive compared to other software

Welcome greeting needs to be more appealing

Needs to expand the functionality of LiveChat Smartphone app
Winding Up
LiveChat is a software that is recommendable for website-based customer support service. This can also prove useful for teams looking to cut their financial budget expended towards training new team members to use the software. With LiveChat, there is very minimal training required before an agent can take charge of the software. The LiveChat support when compared to alternative support mediums like a support email or call center support, LiveChat has a backed app/website support for teams (small, medium, and large). This chat platform is very easy for support agents to multi-task by addressing multiple web visitors at the same time. LiveChat provides an incredible user experience due to its polished interfaces and great features and support.